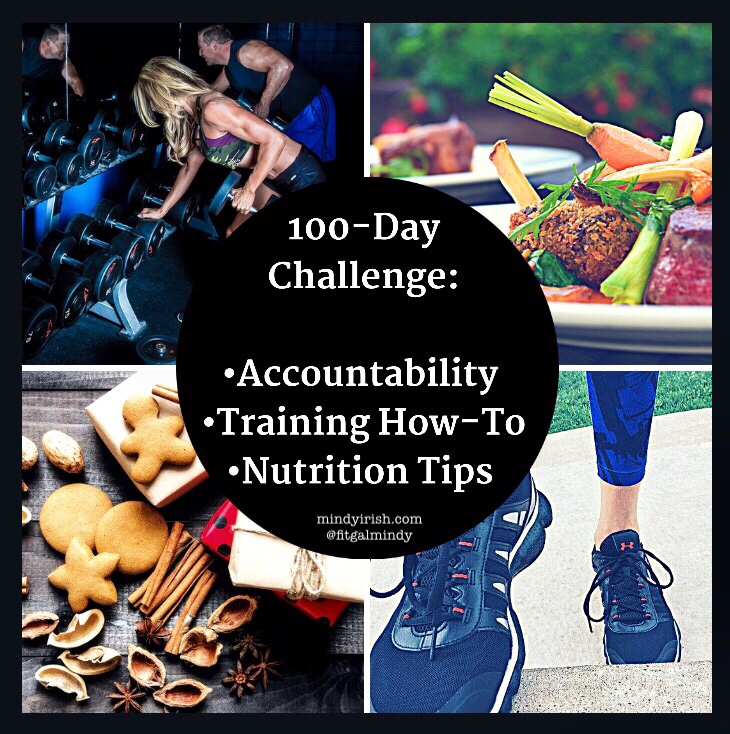 Upcoming Challenge Options:
100-Day Challenge: October 24, 2018-January 31, 2019; That Challenge is now closed!
100-Day Challenge: January 2-April 11, 2019; That Challenge is now closed!
The next 100-Day Challenge: Coming Fall of 2019
–
Email me at  Mindy@mindyirish.com to get on the list for the Fall 2019 Challenge!  
---
"100-Day Challenge"; January 2-April 11, 2019; *Now Closed*
$199
---
"100-Day Challenge" Feedback:
"So far into the 100-Day Challenge, this has been an opportunity to re-focus and be real about what I have been doing (eating, drinking, sleep, etc). I took a look at my patterns and now I have gone back to tracking my food, thinking about getting enough sleep, and moving more.  Just the basics!" -Hannah O.
–
"I'm learning a lot about myself!  I'm realizing I am disciplined, but I do need to stay mindful day to day.  This is fun!" -Eva R.
–
"I have learned how to discover my BMR (basal metabolic rate) to understand what my body needs in a day AND I'm learning how to plan out my day and navigate parties and holidays.  I'm also learning a lot on the training plans.  This is really helpful!" -Kara S.
—
A Peek into the "100-Day Challenge":
Take a peek here at what some of the Challenge videos will look like and get a feel for working with Mindy!  Her videos are simple and to the point, without added fillers, sounds, or special effects.  She shares from the heart in a tangible, real message you can apply and use on your journey!
---
Who is this For?:
I work with women ages 18-60+;  If you're looking to establish new habits, become food aware, and develop new movement patterns involving weight training and routine movement, then this it the Challenge for you!  You may be just starting out, restarting your journey, or looking to take your current methods up a notch!
1.  Buy the Challenge
2.  Receive a "Welcome Email" with "get ready" tips
3.  Receive a "Day One" Email on January 2 and then 2-3x succinct weekly emails thru April 11, 2019
4.  The emails will be themed for the week, with weekly video "Challenge Goals" given around the theme.  An overview of what's on the line-up is: Food intake, Portion sizes, Meal prep, Holiday eating, Nutrient diversity, Training, Cardio, Grocery Shopping, Dining out, Mindset, Self talk, and Consistency (to name a few!)
5.  Receive three weight training plans, one per month;  My focus in the emails for that week will be the training execution, so you can form check and
get clarity over the programming
6.  Option: Weigh-in to me weekly on Wednesdays via email; You simply send your weight and I'll keep you accountable for 100 days!
7.  This challenge is at your own pace and is a steady stream of information to you from me.  No meetings, check-ins, or information is required from you to me (weight check-ins are optional, but highly encouraged!).  I plant the seeds and you get to activate them.  Apply the info and training plans as you're ready!
8.  All sales are Final; It's $199 for 100 Days, so at $2 a day, you'll be receiving great info to help you for YEARS to come!
Disclaimers: By purchasing this "100-Day Challenge", you assume all training and workout risk on your own.  Please consult a physician before beginning any exercises.  Mindy Irish Fitness is not responsible for any injuries while executing the training program.
—
What IS Included in the "100-Day Challenge":
•From January 2-April 11, 2019, you will receive 2-3 succinct emails per week offering education, tips, and inspiration on training, movement/cardio, stretching, mobility, nutrition, holiday strategies, and lifestyle systems
•You will receive 3 monthly weight-training plans, programmed for 4 days a week, 45 to 75 minutes in length
•Initial emails include an overview on how to track on the My Fitness Pal website and app, and then how to determine your own daily caloric intake for your goals
•Access to my monthly E-letters and private Facebook group with biweekly videos that go back nearly 2 years;  Once you purchase the Challenge, you may request to join the Facebook group HERE!
•Option to weigh-in via email to me weekly; Accountability is key to progress!
—
What is NOT included in the "100-Day Challenge":
• 1:1 Coaching, calorie suggestions, or macros specific to you.
•I am providing weight training plans and some video instruction about the programming, but no in-depth instruction on the total training is included.  The training plans will be ideal for trainees who have familiarity with the weight room and some experience with free weights, cables, and barbells; It would be very doable for newer trainees up to advanced lifters.
By doing this Challenge, you take full responsibility for accessing the gym and activating the weight training program at your own risk.
—
Special Notes:
This Challenge is meant to impact your mindset and life systems.  I'm not promoting any certain amount of weight loss or transformation within the 100-day timeline, but rather 100 days to slow down, become more self aware, and give your whole-life systems a reset and overview.  In that, you'll likely start to lay the foundations you desire to set up new ways and outcomes down the road.
 –
This is just the beginning!  I look forward to coming alongside you!
---
"100-Day Challenge"; $199
---
About Mindy:  Mindy Irish has a teaching degree from Indiana University and is a Certified Personal Trainer thru the National Academy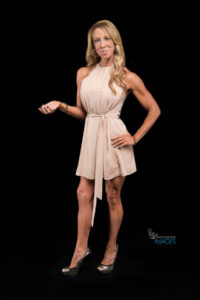 of Sports Medicine.  She has been married to Dan for 19 years and they have four children.
Mindy started her own journey in 2009 at 225 pounds after having five pregnancies in six years.  From 2009 to 2012, she spent time revamping her lifestyle and in turn revamping her body.
She began weight training in 2012 and got into competing in bodybuilding in 2013.  She now competes at the national level in the Bikini division and most recently earned third place, making it into the "Top 3" in the 2018 NPC North Americans Bikini 40+ division.  This was just two places shy of earning that coveted Pro Card for professional status! <her goal!>
Mindy is using her life journey to also teach and guide others across the country and internationally towards their wellness goals.  She is a thyroid-disease fighter, staying ahead of her autoimmune disease, Hashimoto's Thyroiditis.  Overall, Mindy considers herself an Educator, an Athlete, and a Wellness Advocate with passion and desires to help others press reset as she did back at her "Day One" in 2009!